The Google Play Store is the main app store for all android devices out there. With the newly redesigned Google Play Store App has become a complete hub for apps, games, books, songs, movies, magazines and device purchase. Recently it has 850000 apps and downloaded more than 40 billion times.
Recently Google has started to roll out the latest updates to the Play store app. It will bring you brand new design interface and lots of new features which help you to use the app more quickly and efficiently even before. So let's see the how it looks like in home page.
 Home Page
1) Toolbar: you can tap on magnifying glass icon to search the Google play store. On android tablets you can see down arrow which helps you quickly navigate to the updates section. On right corner you can see button with three dots. Tap on it to open the menu.
2) Categories: you can all main categories available on Google Play store. Just tap on any to go to desired category. Currently Google Play Store has six main categories Apps, Games, Movies, Music, Books and Magazines.
3) Previews: In this section you can see previews of certain books, movies and magazines.
4) More Information: Now you can see lot of information right in the home page of the Google app store. It shows the pricing tag and ratings for the item as well.
5) Recommendations: Now Google has started showing recommendations for you on weekly basis. It can be an App, an album, a book, a movie, a game and a magazine. It shows the thumbnail of the item and See More button to get more recommendations.
 New category Page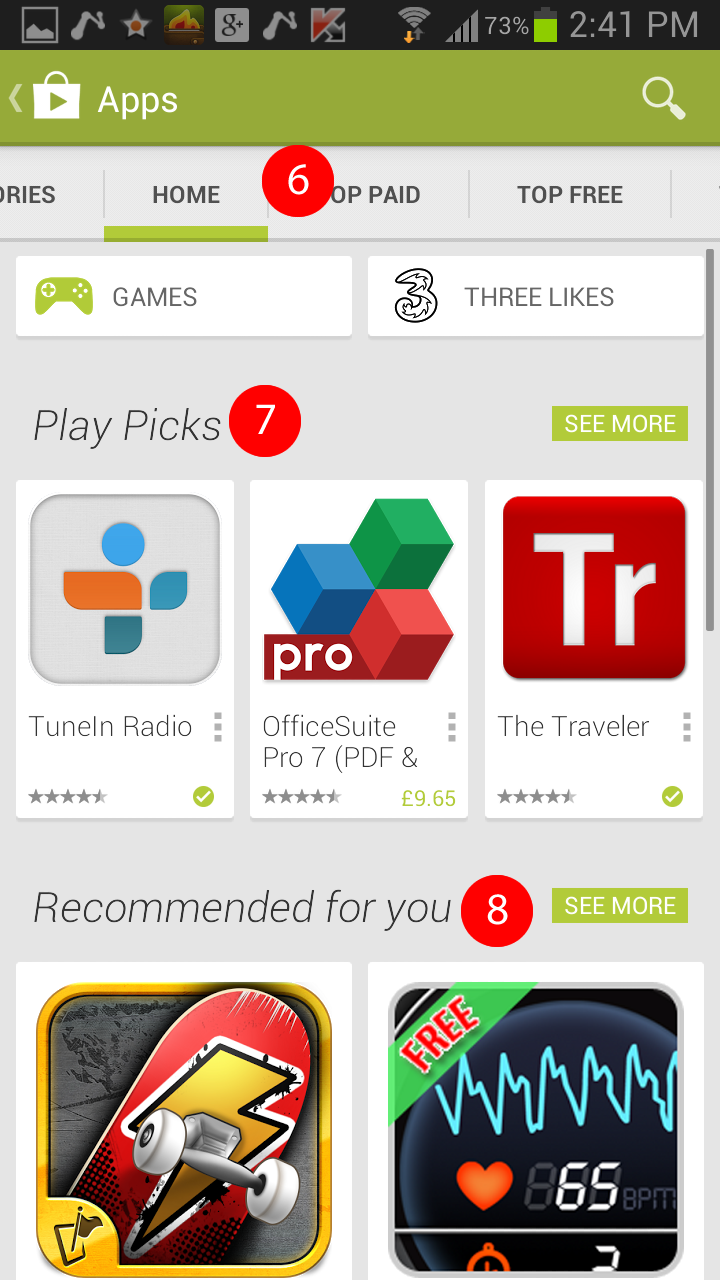 6) Category Menu bar: Easily you can navigate between Categories, Home, Top paid, Top Free etc. As an example if you tap Top Free button, you can all top free Apps. The Home button helps you to quickly comeback to the Apps Category Home page.
7) Play Picks: Google will display some good items for you which has more ratings and downloads.
8) Category Recommendations: you can see all good recommendations for particular category.
9) Category Button: By tapping this button, it will bring up all sub categories for the particular main category with the Editors choice. Just tap on editor's choice to get their recommended item.
10) Sub categories: You can see all sub categories for particular main category. In this screenshot you can notice Games, Book & References etc. By tapping on a sub category you can narrow down the apps for that sub category. As an example if you tap games sub category. It will list you all games apps.
Preview Pages
On preview page you can get all details of the particular item. The price, ratings and comments as well as preview thumbnails. You can install apps plus purchase app if it's a paid one. Even you can buy books, music albums and subscribe to magazine.
My Apps page
In My Apps page, you can see all apps installed on your phone or tablet. It will show up the updates it installed apps has updates. If you want to update a specific app just tap on the name of the app and tap update. If you prefer to update all apps at once just tap the Update all button.